The Crucial Role of Financial Representatives in Retirement
Posted by Morgan Fisher
Serving Cedar Rapids, Iowa, and Surrounding Areas.
Wills vs. Trusts- How Do I Know What I Need?
Perhaps one of our most important topics, wills and trusts! The first time I meet with a client, I always ask if they have a will in place. You would be shocked how often the word is no. Mind you, more often than not, my clients fall in the 55+ category. 
At 28, with no kids or spouse, I have a will. Everybody needs a will. They are so important. A will allows YOU the choice to choose where your assets go after your death. They are also rather affordable and can be changed relatively easily. A trust however isn't for everybody. A trust will take effect while you're alive. It helps to immediately transfer assets from the owner to the trustee. By having a trust, assets automatically can be skipped through the probate court.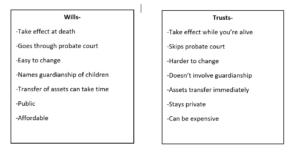 Although the idea of a will or trust can often be viewed as a concern only for older individuals, it is something I strongly believe everybody needs to address. The last thing you would want to happen is to have somebody from the probate court step in and make decisions for you. By organizing and planning your estate, you get a say in what happens and where your estate goes. 
If you're unsure of what your next steps should be, feel free to schedule an appointment to go over more information on both wills and trusts. 
Written by: Morgan Fisher
Investment advisory services are offered through Fusion Capital Management, an SEC registered investment advisor. The firm only transacts business in states where it is properly registered, or is excluded or exempted from registration requirements. SEC registration is not an endorsement of the firm by the commission and does not mean that the advisor has attained a specific level of skill or ability. All investment strategies have the potential for profit or loss.