The Annual Enrollment Period
The Crucial Role of Financial Representatives in Retirement
Posted by Morgan Fisher
Serving Cedar Rapids, Iowa, and Surrounding Areas.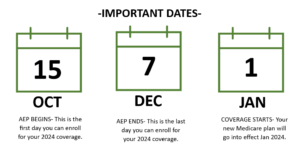 AEP is nearly here, so we are going to switch things up a bit today. Today, we are going to discuss some of the common questions we at Iowa Retirement Benefits & Solutions receive during this time of year.
What is the Annual Enrollment Period (AEP)?
AEP occurs every year between October 15- December 7th. During this time, individuals who are eligible for Medicare can make changes to their Medicare coverage. Typically, it applies to Medicare Advantage (Part C) and Medicare prescription drug (Part D) plans.
There are lots of different letters associated with Medicare. If you need a refresher on what each of them mean, check out this article.
What can you do during AEP?
Enroll in a Medicare Advantage plan if you have Original Medicare (Part A and Part B).
Switch from one Medicare Advantage plan to another.
Join a Medicare Part D prescription drug plan if you don't already have one.
Change your existing Medicare Part D plan.
Return to Original Medicare (Part A and Part B) from a Medicare Advantage plan.
Why am I getting so many calls?
During this time of year, Medicare Advantage plans can change quite a bit in terms of coverage, costs, and network providers. AEP allows you to evaluate your current plan to ensure it still meets your healthcare needs or make switches to a different plan that may offer better coverage or lower costs.
Part D plans cover prescription drugs, and the list of covered medications (formulary) can change from year to year. During AEP, you can review and switch your Part D plan to one that covers your specific medications at a lower cost.
How can I make a change?
Call, e-mail, or schedule an appointment with us! Medicare can be confusing, and it typically helps individuals to work directly with an agent who specializes in Medicare. We can help you navigate the waters effectively and determine if any changes need to be made.
What if I miss AEP?
If you miss the AEP window, you may have to wait until the following year's AEP to make changes to your Medicare coverage unless you qualify for an additional enrollment period or due to certain circumstances such a moving to a new area, losing other coverage, or becoming eligible for extra help.
Do you have to re-enroll in Medicare every year?
No. You don't have to re-enroll in Medicare every year, and you don't have to renew your Medicare Advantage, Supplement, or prescription drug plan either. Have more questions about specific Medicare questions? Check out this blog. 
Key Takeaways: Review your plans. Although it is a task that seems daunting, not reviewing your coverage (especially for multiple years in a row) can end up costing you hundreds to thousands of dollars. If you need a free comparison or to learn more, contact a local Cedar Rapids Iowa retirement expert today.
Investment advisory services are offered through Fusion Capital Management, an SEC registered investment advisor. The firm only transacts business in states where it is properly registered or is excluded or exempted from registration requirements. SEC registration is not an endorsement of the firm by the commission and does not mean that the advisor has attained a specific level of skill or ability. All investment strategies have the potential for profit or loss.